COUNTRY OF ORIGIN
• Albania
• El Salvador
• Mozambique
Local Economic Development Agencies for governance and internationalization of local economies
Presentation
The Local Economic Development Agencies (LEDAs) are legal, no profit structures, owned by the public and private entities of the territory. Through the LEDA the local actors plan and activate, in a shared way, initiatives for territorial economic development, identify the most convenient instruments for their realization and enhance a coherent system for their technical and financial support.

The LEDAs provide several services to the population and institutions, such as territorial promotion, economic dynamization, credit, technical assistance to businesses, entrepreneurial training, with the objectives of supporting productive competitive development and economic innovation, within the perspective of an equitable, ecologic, and human development.

50 LEDAs with such characteristics are currently operating in many Latin American, African, East European countries, and they are gathered into the ILS LEDA network. These LEDAs are based on the experiences of the numerous similar structures operating in Europe since the '60s, nevertheless significant innovations have been introduced with regard to service supply methods, sustainability mechanisms, comprehensive management of economic promotion and the fight against poverty.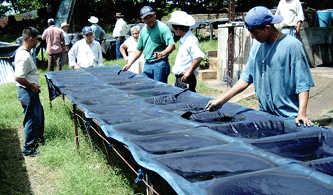 These LEDAs, in fact, integrate governance components (public-private partnership, local-national relations); strategic components (coordination between planning and action); human development components (social inclusion, vulnerable group support instruments, relations between the center and the suburbs of the territory, environmental protection); territorial promotion components (project financing and international marketing); business service supply components (technical assistance, professional training, marketing and loans).

The international organizations that structurally support the establishment and efficacy of the LEDAs are: ILO, UNDP, UNIFEM, UNOPS, and European Union. Numerous donors support the LEDAs in different countries, committing the execution of economic development projects to them. The World Bank identifies them as best practices for local development promotion. OECD recommends the Local Economic Development Agencies as the leader structures of the territory. The LEDA experience is part of the university curriculum in various academies, through masters or specialised courses.

DOWNLOAD THE BROCHURE PDF
Spanish
(0.8 MB)
English
(0.9 MB)
French
(0.9 MB)

ONLY TEXT