COUNTRY OF ORIGIN
• Cuba
Ecological forest farms, for their environmental regeneration of river basins
Presentation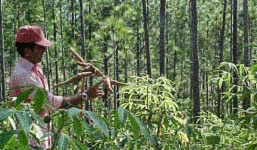 Ecological forest farms represent a coherent solution to various global environmental problems. Throughout the world, deforestation, soil erosion, dwindling biodiversity, desertification, water pollution, and other forms of environmental deterioration threaten the nutritional well being of rural populations and the agricultural sustainability of river basins.

Varying in size from 25 to 75 hectares, forest farms offer a feasible alternative, guaranteeing a secure supply of food, reforestation and woodland management for rural populations. To give forest farmers a broad sense of social belonging, the farms are designed as part of ecological rural development programmes and are set up with technical, economical, social and environmental aspects in mind.

The farms can also make a strategic contribution to curbing mass migration from rural to urban areas, a phenomenon that jeopardizes forest development. This is an aspect that is overlooked in many countries where a high population density is dependant on farming for socio-economic progress.

In Cuba, the Agriculture Ministry, through the GEAM (Hill-Farming Management Group), which oversees the Ecological Forest Enterprise System, the IIF (Forestry Research Institute), and the SEF (State Forestry Service), has set up 848 farms and planned another 5,000 in the medium term. In only 6 years, forest farms have been responsible for planting 13,643 hectares, a figure that represents almost 35% of the country's annual total. In regions with limited production (poor soil and/or affected by frequent droughts), a 95% survival rate has been achieved in all planted areas. This contrasts with a historical average of 36.1 % in similar circumstances when conventional methods were used. Moreover, the incidence of illegal logging and forest fires has diminished (39%). Average salaries have also gone up by an average of 17% and production by 38%.

The impact of this innovation has been greatest in the eastern region of Cuba, where people have problems securing water and food. Of the 8,573 hectares that have been planted, more than 3,000 (35%) make up a woodland belt consisting of 14 multipurpose forestry cultivars, which acts as a water regulator along the banks of the river Cauto, the largest in the country. Due to the care and attention they receive, the trees have shown greater rates of success (85%) and survival (more than 95%) compared to traditional reforestation methods. This has led to improved soil and water quality, and greater protection and shelter for wildlife.

During the Equator Initiative of the Johannesburg Summit on Sustainable Development (2002), the UNDP, the Canadian government, the International Development Research Centre and the World Conservation Union recognised ecological forest farms as one of the world's 25 most successful sustainable development projects.


DOWNLOAD THE BROCHURE PDF
english
(1.2 MB)
spanish
(1.1 MB)

ONLY TEXT