COUNTRY OF ORIGIN
• Colombia
Código de acceso, young people and information
What problem does it solve?
According to the results of the survey carried out by Atlántida on the youth culture of Colombia, carried out in 1994 with the backing of Conciencias and Fundación FES, Columbian teenagers had no opportunities to express themselves in the field of communications and so their views of the world were little considered by adults, who control the information system that shapes public opinion. This situation meant that youngsters were kept from taking an active part in the construction of society.

In previous generations, youth had a role to play in the social construction of their environment through various activities which they carried out in the company of adults, such as entering the workforce at an early age or taking part in traditional cultural events. Then, during the 1970s and 80s the situation began to change; youth became a world apart, with its own identity, specific consumer markets, policies, and exclusive areas of participation for this vaguely defined age group. This meant that there was no longer any dialogue between young people and adults nor did they share the same areas of social interaction. As a result there were no daily transactions to guarantee cultural transmission from one generation to another.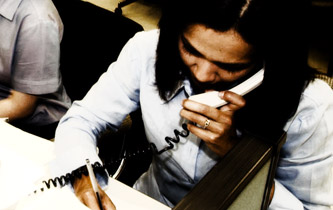 The conclusions of the Atlántida survey led to creation of a journal called Camaleón, written and published by young people for adults, which became the predecessor of what today is known as Access Code. This initiative was taken up by Casa Editorial El Tiempo, which opened its doors to the group of young people running the magazine. For a year they had the chance to draft proposals together with EL Tiempo journalists, layout artists and photo reporters. Although the scheme to distribute the magazine together with the newspaper did not prosper for economic reasons, the experience of youngsters and adults working together in editorial offices to design and devise the magazine led to a trial run of the Access Code school of journalism. Nowadays the newspaper's reporting staff includes teenagers from schools and universities, who produce news articles that express their views of the world.

Compared to other initiatives involving young people in the field of communications, which are usually short term and just involve a page or so, a supplement or a magazine about and for young people, Access Code has brought teenagers into the very structure of the newspaper, allowing them to learn the tricks of the trade and take an effective and active part in all the sections of the newspaper, giving them space to express their opinions.

Access Code is a pioneer pedagogical and communicative innovation in Latin America that introduces new work methodologies among young people.

DOWNLOAD THE BROCHURE PDF
english
(0.6 MB)
spanish
(0.6 MB)

ONLY TEXT