COUNTRY OF ORIGIN
• Colombia
Código de acceso, young people and information
Adopting Access Code in other countries
Access Code has already been replicated in different areas of the country, in the regional publications of Editorial El Tiempo. The programme can be set up in other countries as long as an important newspaper publisher has the political will and managerial capacity to make it work. The presence of communications media company is also important to generate communicative dynamics.

In this process, Access Code team leaders can assist in two ways. Firstly, the El Tiempo team can inform editors of important newspapers about the basic elements of the innovation and the impact that it generates within the newspaper.

Moreover, the Access Code team can explain the mechanics of the innovation to groups of journalists in other countries, help draft a training programme, advise on logistics, and put forward a plan of operations for each particular context. Advice can be provided by the newspaper's department of social responsibility, Access Code coordinators, or the youngsters that are or have been part of the programme.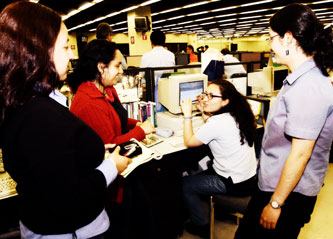 DOWNLOAD THE BROCHURE PDF
english
(0.6 MB)
spanish
(0.6 MB)

ONLY TEXT