COUNTRY OF ORIGIN
• Nicaragua
Serodiagnosis KIT of Human Leptospirosis and Chagas Disease
The Leptospirosis and Chagas KITS in practice
THE LEPTOSPIROSIS KIT

The Leptospirosis KIT is a laboratory technique prepared specifically for the in vitro diagnosis of human Leptospirosis in the acute or early stage of the illness from serum of suspected leptospirosis patients. The KIT comes in a commercial diagnostic packet.

The way the KIT is designed means it can be easily replicated in any regional or local laboratory that has a minimum amount equipment and technical personnel with some basic experience. Among the most important intrinsic characteristics of the Leptospirosis KIT is that it utilizes, as the source of the antigens, a somatic extract of Leptospira serovar Copenhageni strain Wijnberg, which has entered the exponential phase. The extract is useful in the diagnosis of acute Human Leptospirosis after the first few days of infection.

The Leptospirosis KIT is a technique providing high diagnostic resolution, with a 100% sensitivity and 99.6% specificity. It gives quick laboratory results (2½ hours), enables several samples to be processed simultaneously, since it is designed in strips that allow for the processing of between 1 and 96 samples at any one time. The results can be attained qualitatively from colour intensity, which means that the analysis of the samples can easily be carried out in peripheral laboratories. Results can be attained quantitatively when laboratories are equipped with ELISA readers. The KIT is a low cost technique, since it is nationally produced. In Nicaragua the KIT costs 20 times less than other commercial techniques.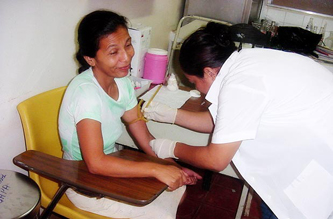 THE CHAGAS KIT

The CNDR/MINSA – Chagas KIT is an enzyme immunoassay (ELISA) for the in vitro diagnosis of Chagas Disease, based on the detection of T.cruzi antibodies in serum of suspected Chagas patients. The antigen used is a somatic extract of the tripomastigotes parasite, useful in the diagnosis of chronic and acute American trypanosomiasis after the first week of infection.

When a patient is clinically suspected of suffering from the illness, a blood sample is taken, which is analysed using the CNDR/MINSA - CHAGAS KIT. Results can either confirm (Chagas positive) or exclude (Chagas negative) infection.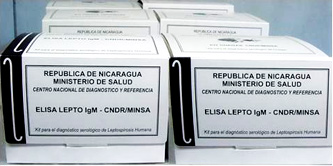 The Chagas KIT produces the following results:

• Prompt diagnosis of Chagas Disease. It is very important to detect Chagas patients as quickly as possible, especially in rural areas where the illness is endemic because of the conditions of extreme poverty in which the population lives. Early detection allows the Health Ministry to provide patients with prompt treatment. International studies show that treatment is very effective in the early stages of the illness, mainly in children under 15 years.

• Guarantees safe blood. The Chagas KIT enables the Health Ministry to screen all blood banks belonging to the national health system, guaranteeing that patients whose lives depend on blood transfusions or blood products do not get infected. Tripanosoma cruzi parasites can produce irreversible lesions in patients, leaving them incapacitated for the rest of their lives and even leading to death after a few years.

• Availability of diagnosis at the local level. The Chagas KIT allows a greater number of Nicaraguans to access the test free of charge in the health units of their respective territories. It allows local health personnel to follow and evaluate the efficiency Chagas treatment in patients treated in respective units.

• Capacity to carry out epidemiological studies. The studies enable samples to be carried out in areas of the country that are difficult to reach so that active transmission of the disease can be detected and prompt treatment provided. Health personnel also acquire a higher capacity to evaluate the effectiveness of vector control activities in endemic zones.

STEPS IN THE SERODIAGNOSIS OF CHAGAS DISEASE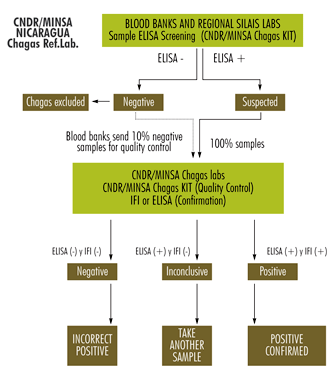 STEPS IN THE SERODIAGNÓSIS OF HUMAN LEPTOSPIROSIS