COUNTRY OF ORIGIN
• Serbia
Petnica Science Centre - Innovative Support to gifted Students and Ethusiastic Teachers
What problems does it solve?
In Serbia interest in studying sciences decreased approximately five times in the past fifteen years while more than half of the best researchers and lecturers have left the country for various reasons. In the last ten years the great part of the schools did not purchase even a single instrument for scientific education. Inadequate science education and not-too-enthusiastic public attitude toward science and technology are characteristics of the entire world not only of "the undeveloped south". In undeveloped or developing countries, however, this problem appears to be more prominent because of effects like brain-drain, distance from main scientific centres, old-fashioned teaching methods and tools. The problem becomes even more upsetting when we realize that most of decision making and legislative bodies are occupied by scientifically illiterate people discussing issues like sustainable development, genetically modified food, green house effect, nuclear power-plants or strategies of scientific and technological development. All countries need solid science policy, now more than ever. Unfortunately, number of citizens competent for creating such a policy is gradually decreasing.

The general solutions of these problems are greater investment in school system, universities, educational infrastructure, media coverage of science and education topics, new technologies in education, establishing and improvement of science museums. Although these solutions cost a lot of money, they are indispensable because they target entire population. However, significant improvement can also be made by targeting relatively small but extremely important group – gifted, highly motivated, and learning oriented young people of pre-university age.

The solution offered by the PSC are to organize op extracurricular training for motivated and apable young people from schools all over the ountry, especially from country side areas, and to teach them thinking skills, scientific and research methods and train them to recognize real problems and to try to solve them. Investing in talented young people interested in science and new technologies and able for critical thinking could make great impact on the future of entire population. It is possible to resume in three points the essence of PSC experience. First, this innovative institution helps hundreds of schools (mostly secondary schools, i.e. grades 8+) to solve the problems of students who need more than the school can offer them, especially in the field of science and technologies where the optimal combination of modern technical facilities (laboratories, equipment, libraries) and well educated enthusiastic teachers is difficult to be achieved. With Petnica Center there is no need for such students to change school, but they can once, twice, or several times a year spend a couple of days taking part in intensive training activities out of school at the place where such facilities exist.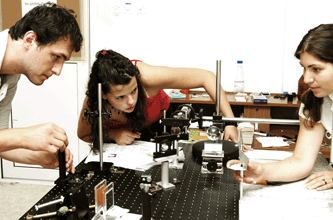 Second, such profiles of students (gifted and demanding students) generate future national elite of innovators (as creative and productive scientists, engineers, doctors, public workers, etc.). If we can expand their knowledge and experience with applicable skills and tools before academic (university) training, we can prepare them to use university facilities and environment in much more efficient way and to become more successful and efficient in their future professional work.

Third, Petnica Center as independent institution, could be more flexible and efficient in teacher training activities especially in science and technologies - areas where up-to-date knowledge and information much be shared to educators, where is no time to wait until top level authorities "give permission" or advice to schools and teachers to pay attention on something. This is not case just in some areas of fast changing scientific knowledge or new technical products, but it is much more important in the field of new teaching methods.

Moreover, the case that there is an organization where both students courses and teacher training exist is very rare in the world. The Petnica Center has many advantages of such opportunity. Here, we can just mention that teachers can be involved in students training to "feel" effects and response of some specific new teaching methods. Well developed communication with students and alumni can be easily and successfully used in evaluation and fine "tuning" of some new innovative teaching methods and techniques in order to be adapted to real needs, style, and "language" of specific students' generation.

Petnica is a center where hundreds of extraordinary motivated students every year get a chance to do something for their own education and to learn through research. Staff and associates of the Center created a method for development of critical thinking and interdisciplinary cooperation that can help in changing of the socio-economic
and cultural profile the society by stimulating the most promising young people to search for information, to evaluate it critically, to exchange ideas and to be tolerant, communicative and flexible, able to see, describe and solve wide range of problems and challenges. With no preconceptions and no model, the PSC became a flexible, future-oriented project with tremendous influence not only on teaching practice in schools, but on the entire evolution of science, technology,
and social development of the country.

Although it was designed mostly for students, Petnica is well known among Serbian educational institutions, for its specialized courses and workshops designed for school teachers. The Center carries out teachers' training for hundreds of science, technology and humanities teachers every year in the same stimulating environment as for the students and that way indirectly influence tens of thousands of students. Teachers' training programs in Petnica, have a few important advantages in comparison to the "classical" seminars for teachers. The most important features of such programs are active participation of all teachers, individually oriented practical work and interaction between teachers in the group.

Compared to others centers for out-of-school science education, PSC is orientated more towards the harmonious expansion of the educational system and the entire society and not to the methodology that identifies "super students" or "small geniuses". PSC methodology is striving to stimulate student's personal interest and curiosity for the simple learning's pleasure. Petnica Center does not prepare students for competitions nor delivers diplomas or other formal assets. All Petnica students are attending seminars and workshops because of their motivation to learn more. Such a target group is significantly broader and results are certainly more vital for the society. The real outcomes of Petnica programs are that students are becoming significantly more self-confident, critical and systematic in work and inferring of conclusions, more capable to "dig"necessary information, to precisely express their thoughts and attitudes and finally more aware of responsibility for their own education.
Petnica has more than twenty years of experience and nearly 2,000 programs for 40,000 students and teachers, during this time there were many outcomes than allowed to give an excellent qualitative evaluation of the practices realized: between our alumni increase the interest in science careers; a great number of Petnica student reach high levels in post University degree, becomes researcher, won international awards and when they became University students or professionals continued to collaborate as voluntary teachers with the institution. We can say that the mission of the Petnica is to support the education system thought promoting rational thinking through extracurricular advanced education in science and technology among motivated students and teachers. One side function is to identify gifted and talented young people, especially students from small and provincial schools and from underprivileged areas, and to give them additional support and quality knowledge and life skills.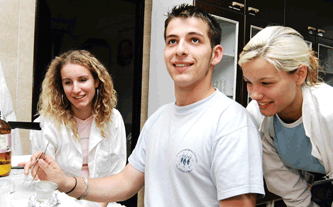 The main goals of Petnica Science Center programs are:
• to identify gifted secondary-school and university students interested in science and to give them intensive extracurricular education,

• to enable students to learn while working on real scientific projects under the supervision of professional scientists and science teachers,

• to raise students' motivation, learning abilities and the level of communication,

• to instruct young science teachers on how to apply up-to-date scientific concepts, knowledge, educational methods and technology,

• to help educators to keep pace with demanding but unavoidable new technologies,

• to initiate co-operation and exchange of experiences and ideas among students of different programs and from different schools and

• to establish rich international and intercultural contacts and co-operation among young people, students
and teachers.

Such a work, lasting for 24 years now, would not be possible without strong support of numerous associate institutions, network of junior and senior associates, valuable advisory teams and many domestic and international donators attracted by advantageous work of Petnica Science Center. PSC has made large network of associates and associate organizations and today successfully co-operates with:

• Seventy research institutions in Serbia and over a hundred worldwide including the Academy of Science as well as all Serbian universities.

• Hundreds of primary and secondary schools in seven countries in the region. PSC co-operates with almost 90% of general and vocational secondary schools in Serbia.

• There are over 1,500 associates worldwide including both old prominent academics and intellectuals and fresh young researchers.

DOWNLOAD THE BROCHURE PDF
English
(0.9 MB)
Spanish
(0.9 MB)

ONLY TEXT