COUNTRY OF ORIGIN
• Serbia
Petnica Science Centre - Innovative Support to gifted Students and Ethusiastic Teachers
International interest
Activities of Petnica Science Center attracted international attention of several different subjects.

Students
Organizations for out-of-school science education are very rare in the world in spite of increasing role of science and technology in economic development. Science contests, fairs, or Olympiads are mostly focused on repetition of memorized school knowledge or small science projects designed and made in many cases by teachers. Students programs organized by Petnica Center are very popular by teenagers in SE Europe because of serious hard work in free and relaxing atmosphere.

Teachers
The majority of in-service teacher training programs are controlled by government or school authorities and anchored with existing curricula. The most of such programs are with too many participants (hundreds, even up to 3,000 in single room!) to enable free discussion or practical elements. Small, flexible, and liberal training programs in Petnica with small groups of up to 25 teachers are welcome by schools and teachers. Teachers are also very curious to see innovative atmosphere where their students are coming.

Foundations
Since the very beginning Petnica attracts attention of many international foundations. So far Petnica has been supported by HESP Budapest, Swiss Development Agency (SDC), UNESCO, UNICEF, European Commission, Canadian Development Agency (CIDA), Kultur Kontakt Austria, Fund for Open Society, The British Council, and others.

Educational Institutions
PSC is recognized as a symbol of quality and experience in many universities and organizations specialized in gifted education or in innovative science teaching such as University of Goetingen, The Johns Hopkins University, MIT, The Weizmann Institute, etc. Lecturers from Petnica are welcomed to all educational events in the region. Exchange of information and ideas on the regular basis between Petnica and its fellow institutions is a corner stone of future co-operation in the region.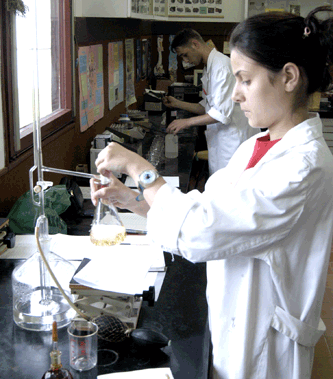 International Organizations
The Petnica Science Center is linked with a number of international societies concerning science education like IOSTE, ICASE, ECSITE, NYEX, and others. Working language in Petnica programmes is Serbian and because of its similarity with other Slavic languages, participants are mostly from the countries of the region, which permits them to attend activities without serious difficulties. Some camps and workshops have been realized in English, intentionally for joint work of international and domestic participants.

DOWNLOAD THE BROCHURE PDF
English
(0.9 MB)
Spanish
(0.9 MB)

ONLY TEXT