COUNTRY OF ORIGIN
The raincoat package for soil, plant, animal and human health
Results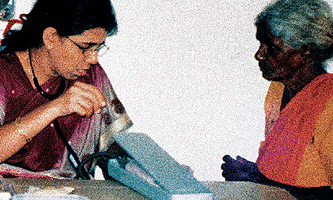 India has about 25 million Neem trees and produces 0.5 million tonnes of Neem seeds each year. Each tree produces 5 to 6 kg of Neem oil in one year, providing a minimum income of ten euro per tree for the oil alone. Because it is so abundant in India, Neem can be used with very low cost or for free.


BASIC RETURNS OF THE RAINCOAT PACKAGE

•Earth healing
•Food for earth
•Grain storage
•Pest control
•Skin and gum care

The Raincoat Package developed by the HFRC is multipurpose and environmentally friendly. It plays a key role in ensuring food security, improving human health and safeguarding the wellbeing of humans over the long term. In the future the world must look to natural ways and processes for pest and nutrient management, human health and environment conservation. The Raincoat Package provides a way to do so. The package has already been an important means of support for communities, saving them money in agriculture as well as in primary health care.


The HFRC has started small-scale production of the following products, in which Neem is the main ingredient:
•Anti-lice oil
•Anti-dandruff oil
•Cream for cracked skin on feet
•Tooth powder
•Herbal medicine for fever
•Herbal ointment for skin infections

All products have been tested and are marketed in Andra Pradesh by Suveda Herbals. Income from sales helps to maintain a free clinic run by the HFRC in the same tribal area where Dr. Vedavhaty did her field research, while the products are distributed free of charge in two allopathic dispensaries in the Tirupati area and in a homeopathic clinic in Nellore. Thus, benefits derived from community knowledge are channelled back into the communities. A next step is to organise further income-generating activities through marketing Neem products.

Simple laboratory equipment costs about 500 Euro and is sufficient for processing oils, powders and creams. The local market demand in India is good and the income provided to the communities there can be high, especially because the income for remedies and cosmetics can be fifty times higher than that obtained from selling simple Neem oil.

The HFRC staff can easily provide technical training for NGO resource persons interested in setting up a Neem laboratory and processing unit. Following a preliminary survey to identify the particular needs and conditions of the area in which the knowledge will be applied, the training itself lasts for one week.



DOWNLOAD THE BROCHURE PDF
english
(0.7 MB)
spanish
(0.7 MB)
albanian
(0.8 MB)

ONLY TEXT