COUNTRY OF ORIGIN
The raincoat package for soil, plant, animal and human health
Adopting the raincoat package in other countries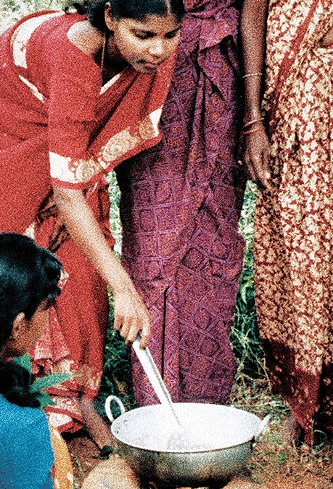 The Neem tree can be cultivated in arid, semi-arid, wet-tropical, tropical and sub-tropical regions. The root is able to glean nutrients and moisture even from highly-leached sandy soils. The species has a very wide capacity to adapt and is highly tolerant of different soil and climatic conditions. It requires no irrigation, fertiliser or other special care.

The Neem tree increases the fertility and water-holding capacity of the soil, as it has a unique property of calcium mining which neutralizes acidic soils. The tree has been successfully employed for reforestation of dry localities and bare ravines, checking soil erosion and as windbreaks.


CONDITIONS FOR CULTIVATION

The soil pH needed for optimum growth is 6.2 and above, but the tree can also grow in acidic soils with a pH of around 5, as well as on calcareous soils with pH 8.5. In fact, the leaf litter can help to establish neutral conditions on the soil surface. The tree cannot tolerate saline soils, seasonally waterlogged soils and deep dry sand (water below 18 m).

Neem is generally found growing at an altitude between m and 1 500 m. The tree can withstand shady temperatures of up to 49°C and cannot withstand frost. Rainfall of between 450 and 1 150 mm is ideal for Neem growth, but it can also tolerate a long dry season (130 mm annual rainfall).


VEGETATIVE PROPAGATION

Shoot cutting and air layering propagation is quite easy. The tree may also be propagated easily by root cutting.


SEED PROPAGATION

Seeds are usually dispersed by birds under natural conditions. Seeds fall to the ground during the rainy season and have to be collected and used within two weeks. Seeds may also be collected directly from the tree when ripe and sown as soon as possible. The results are very good, as long as seeds are not left to stand for long following collection.


NURSERY TECHNIQUES

Farmyard manure, sand and local soil should be mixed in a ratio of 1:1:3. Sowing in nursery beds should be done in drills 15 cm apart, with the seeds 2.5 cm apart in lines. They should be lightly covered with earth, since seed germinating on the surface of the bed is liable to have its radicle eaten by birds and insects. The beds should be sparingly watered and soil kept loose to prevent caking.

Seedlings may be pricked out at 15 cm x 15 cm when about two months old. They do not require shade. The seeds should germinate after a week.

Seedlings raised in the nursery can be planted out when 7 to 10 cm high. It is best to prune down the stem and roots. Planting must be done during the rainy season. Planting under thorny bushes can provide effective protection from animal damage.


HERBAL FOLKLORE RESEARCH CENTRE (HFRC) SUPPORT

HFRC supports training to transfer technology and management skills to communities, farmers and partners to expand their knowledge, and also provides enterprise development and community-based monitoring if needed. The Centre helps cultivate Neem and disseminates information to local communities regarding the preparation and usage of the products using local resources. The Centre aims to achieve farmers' self reliance through a participatory method.

The training supports farmers in achieving self-reliance in insecticide/pesticide supply through self-help groups (SHGs). Awareness campaigns have resulted in the use of Neem kernel extract and oil for pest control in many villages. Intensive Neem seed collection was undertaken, followed by large-scale Neem planting on field bunds, community lands, watersheds and waste lands. Use of Neem as an insecticide and pesticide and replacement of chemical products was monitored and the experiences shared among villagers. The application of Neem-based products reduced the number of soil insect pests, fungi and nematodes, while the Neem residue provided nutrient enrichment.

Storage of grains using Neem has improved health and reduced costs. Gum care and skin care have become a reality where the locally-available Neem plant is used.


TRAINING COURSE IN THE USE OF NEEM PLANT PARTS FOR THE PRIMARY HEALTH CARE OF BOTH HUMANS AND ANIMALS: 20 TRAINEES FOR 6 DAYS

Course content: Introduction, taxonomical characters and medicinal importance, cultivation, etc., along with the preparation of Neem-based home medicines.

Schedule: During the first four days the group learns how prepare herbal powders, teas, extracts, decoctions, pastes, oils, bath powders, tablets and capsules for external and internal use for skin care (all dermatological problems, fungal, bacterial, viral, parasitic and systemic infections including allergies) and fever (viral and bacterial). On the fifth day the trainees learn how to prepare herbal medicines (lehyam and extracts) for urinary disorders. On the sixth day the group learns how to prepare oils, creams, paste, powder viz; toothpaste, tooth powder, hand and body lotion, for: inflammations, bone fractures, sunburn, hair care (head lice) and tooth care.


TRAINING COURSE IN ENVIRONMENTALLY FRIENDLY AGRICULTURAL TECHNOLOGIES: 20 TRAINEES FOR 10 DAYS

Schedule: An introductory class covers Neem's chemical constituents and action and the nature of pests, with a practical demonstration of how to apply biopesticides and biofertileser to plants. During the first 5 days the trainees learn how to prepare biopesticides using Neem leaves and seeds. On the following 5 days they learn how to use Neem for grain storage and animal feed and how to prepare a biofertileser (Neem cake).





DOWNLOAD THE BROCHURE PDF
english
(0.7 MB)
spanish
(0.7 MB)
albanian
(0.8 MB)

ONLY TEXT