COUNTRY OF ORIGIN
• Serbia
IMS Building Technology
What problems does it solve?
In the early 1950's, former Yugoslavia had a great problem of housing space deficit, which represented a challenge for the great constructor Branko Zezelj and his team, first of all the engineer Bosko Petrovic, with whom he developed and applied, at the time, a new building material – prestressed concrete. Designing bridges and halls unique in the world, he got a great idea to apply the material and technology of prestressed concrete in the field of building houses.

The prefabricated concrete frame consists of columns, beams, floors slabs, shear walls and staircases. It offers a wide variety of different buildings produced out of relatively small number of typical elements, precasted industrially in large series. An important characteristic of the IMS Building Technology is that it represents an open system, which can accommodate various subsystems, differing in both technology and materials. During its 50 years of application all around the World, locations, where the buildings were constructed, were unfortunately exposed to natural and other catastrophes: earthquakes up to 8 Richter degrees (Banja Luka, Bosnia & Herzegovina), hurricanes (Havana and Cienfuegos in Cuba and Manila, Philippines), wars, bombings (Sarajevo, Mostar, Bosnia & Herzegovina, Osijek, Croatia), fires, accidents. In all those conditions buildings with prefabricated prestressed skeleton remained stable, as a whole, without significant damages, so that, after cosmetic remedial works, they are now in use again.


LOW-COST
The cost of IMS superstructure is relatively low. The reasons are various: first of all, this is an industrialized system, all structural components are studied theoretically, by full scale tests and in course of many years of practical application – low consumption of materials is fully justified; second, steel moulds can be applied hundreds of times, IMS assembly equipment makes the use of expensive timber negligible; third, IMS Building Technology is de facto not sensitive to rainy seasons and typhoons – minimum precaution measures can practically neutralize negative impact of these; fourth, IMS superstructure construction is fast and the progress is fully controllable.


SAFE
IMS system is a unique technical solution, providing fully integrated structural framework composed of the pre-cast elements and assembled by post-tensioning. All joints have the capacities that are at least equal to the capacities of the joined member sections; specific application of post-tensioning, theoretically studied and experimentally proved joints and appropriate assembly technology secure this. No weak joints take place and the assembled pre-cast posttensioned framework superstructure acts as a fully integral structural system. In course of almost 50 years of the worldwide application, no cases of structural failure have been recorded. In design of the IMS system, provisions of Unified Building Code (USA) are respected. 100% of designed seismic forces are transferred to the entire structure including shear walls. In addition to this, according to the requirements of mentioned Codes, structural frame (columns and floor elements, without participation of shear walls) is designed to accept 25% of seismic forces. IMS system complies also with Russian and other seismic codes.


FAST
The construction period of an entire project may be considered as shown in the simplified diagram presented below. Initial stage duration (Ti) depends on a variety of conditions that are not directly related to IMS technology (such as the type of foundations). However, it is assumed that IMS moulds and assembly equipment should be completed in course of this period. Finishes and services can start parallel with the IMS system assembly, but completion of these is not directly related to IMS technology. Thus, the period To and time shift ÄT (see diagram below) define speed of construction of IMS System superstructure. Complex architecture such as the one typical for prestigious condominiums, offices or hotels, requires many different types of pre-cast elements. This results in increased quantity of moulds needed for application of IMS Building Technology. Simple architecture, such as the one typical for low cost housing projects, schools or health centres, require a relatively small number of different types of pre-cast elements. This results in reduced quantity of moulds needed for application of IMS Building Technology. However, the complexity of architecture does not essentially influence the cost of superstructure construction.






SUSTAINABLE
The question that is frequently raised by potential users of industrialized technology is the extent of initial investments and impact of these on the project money flow schedule. The IMS industrialized building technology falls into the category of these requiring relatively small initial investments. The range of these investments has been proven during decades of experience with the application of the IMS Building Technology. Common advanced payment of some 15% to 20% of the contract cost is sufficient for contractor to finish the project without negative balance in course of construction and to achieve the anticipated profit. The simplicity of manufacture and its adaptability to a large range of conditions makes the system widely acceptable. It can be adapted to different grades of workforce skill, different levels of development of the construction technology and even to specific local conditions in regard to the availability of materials and products. The fact that the choice, method and timing of finishing works on the building can be left to the user makes the IMS Building Technology suitable for application in the construction of large housing estates. It enables the design of flexible apartments and other buildings, making it easier for the end user to participate in the process of creating his home.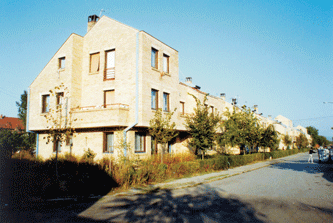 DOWNLOAD THE BROCHURE PDF
English
(0.8 MB)
Spanish
(0.8 MB)
Serbian
(0.8 MB)

ONLY TEXT