COUNTRY OF ORIGIN
• Colombia
Maloka, a place to meet science and technology
MALOKA in practice
The Maloka Interactive Centre is located in an important commercial and financial sector of Bogotá. On the ground floor, the Maloka building extends over a public square covering an area of 7,000 square metres, with another 10,000 square metres underground. It is located in a zone that is easily accessed from many parts of the city.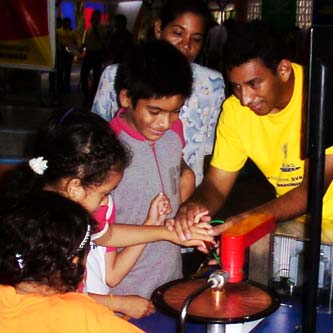 Maloka has 12 exhibition rooms, each with a different theme, comprising the universe, water, life, biodiversity, human life, telecommunications, the petrochemical industry, the city, and a children's area. The different exhibition rooms are made up of various interactive modules. Maloka has developed over 300 modules on various themes. With its own cutting edge technology and workshops, Maloka can offer purposebuilt modules for third parties based on plans developed jointly with Maloka experts.

Maloka boasts the first giant screen theatre in South America, which has 314 seats and the most advanced image and sound technology. Apart from providing different types of entertainment for the general public, the films shown are also aimed at educational institutions and chosen in conjunction with teachers.



Maloka also offers the opportunity of taking the concept of play and education to young people and families of other communities with an itinerant exhibition entitled Maloka Viajera. Maloka Viajera has extended the activities of the centre throughout the country, generating permanent ties with the communities visited. Maloka Viajera also has an international vision. This itinerant exhibition includes interactive rooms on mathematics, electricity, magnetism and astronomy. Maloka Viajera is designed to be highly flexible, so that it can adapt exhibitions to local needs and available space. It has its own team to set up exhibitions and educational coordinators that train young local people to work as guides during the visit.
Maloka can
provide consultancy at various levels: architectural and technical consultancy for the installation of giant screen cinemas; educational consultancy for science museums or centres, educational material, teacher training and advice on creating similar projects both in the planning stage and in targeting audiences.
More than
just a physical or geographical location between two streets, Maloka is an experience offering continuous development and enrichment, pushing Colombia to trust in its capabilities and set itself great goals. It lives up to its name because, as its name suggests, it is a place for everyone, no matter where they live or who they are.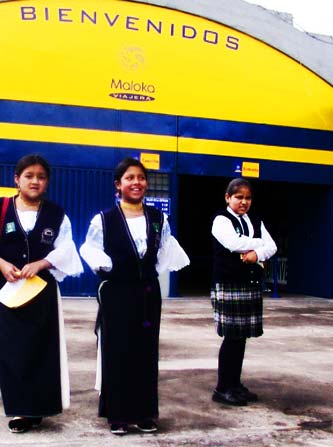 Maloka's
pedagogical model is based on three major principles:
Learning by doing, where experience, concrete action and abstract concepts go hand in hand.
Learning to learn, so that people go beyond mere content and information, and are encouraged to ask and actively explore multiple questions.
Learning to undertake, so that what we have gained is transformed into action, change and innovation.
This pedagogical model pervades the design and implementation of all the products and services that Maloka offers the general public.
MALOKA PROGRAMMESSchool for Guides
. An important example of Maloka's pedagogical model is the School Guide Programme, which aims to promote the training, participation and independence of young people that work as facilitators of the centre's learning experience. These guides are generally university students that receive continuous training in Maloka and who are also given the chance to propose and design their own educational activities for the public.
Science and Technology Clubs
. Other examples of how Maloka's pedagogical proposals are applied are the science and technology clubs, the programmes organised for teachers, and interactive missions aimed at students. The science and technology clubs give children of different ages the chance to explore biology, ecology, chemistry and robotics, approaching the basic concepts of each subject through experimentation. However, it also allows them to generate proposals that concern the problems of their own local contexts. This is made possible through the backing and guidance of researchers that assist participants in their scientific projects.
Programming of teacher activities
. Maloka offers forums, workshops and seminars designed as academic settings for debate and discussion of current issues with experts. Maloka also organises Teacher Days, providing refresher courses in physics, chemistry, biology and mathematics.
Interactive missions
are designed to explore and investigate curricular subjects that the students are studying in class. Courses are structured by teachers in conjunction a team of educational experts from Maloka.
Mediateka. Another significant service provided by the centre is the Mediateka or media library, which was built with the backing of the Culture Ministry and was designed as a centre of documentation and exploration of new media, aimed at familiarising people with the language of new communication technologies.
Exhibitions
. Maloka provides added stimulus for the centre's exhibitions through its 'temporadas' (seasons), involving a cross-section of the themes explored in the exhibition rooms, such as water, human life, and the history of science amongst others. Experts in education and science, with the backing of exhibition guides, design multiple activities that renew the exhibitions, turning them into laboratories and offering regular visitors a different Maloka.
Conference cycles
. As a meeting point for the society in general, Maloka offers conference cycles, where the public is offered an everyday, accessible approach to the issues of pure and social sciences. Similarly, the scientific, academic and industrial communities are given the chance to share or relay various topical issues of public interest.
The cultural fringe. Maloka offers classical concerts by national symphonic orchestras and bands, storytelling activities, puppets, and other events, bringing families, young people and children closer to the issues of science and technology in an informal non-conventional way.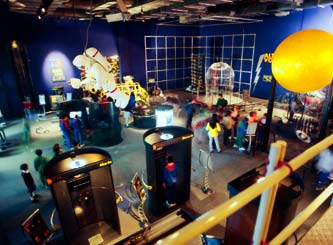 MALOKA PEOPLEMaloka has
a staff of nearly 300, divided into 7 workgroups: research and education; development and production; human talent; interactive centre; external programmes; administration and finance, and marketing. The research and development groups establish the guidelines that the other groups follow in accomplishing the mission that Maloka has set itself.
The scientific
community and a group of external advisers support the work of these seven groups. At the head of the organisation is a general assembly, with a board of directors representing the country's various public and private sectors. They provide guidelines for the Maloka management committee.

DOWNLOAD THE BROCHURE PDF
english
(1.0 MB)
spanish
(1.0 MB)

ONLY TEXT