COUNTRY OF ORIGIN
• Italy
Soil Bioengeneering
Using Soil Bioengineering in other countries
Usually bioengineering interventions are promoted by local administrations: regions, provinces, mountain communities. Bioengineering interventions, despite their particular nature, are still classified as public works and therefore subject to the same laws and regulations, which vary from country to country. In general, authorisations from competent local authorities are needed to start work, which normally entails presentation of a draft project together with any other necessary documents.

The very nature of bioengineering systemizations, which involves specialists from various fields of activity, means that it is vital to establish collaboration with:
• Universities (especially the faculties of Engineering, Agriculture, Biology, and Geology)
• Land protection authorities, to exchange information, conduct experimentations and carry out interventions.

These interventions are especially useful on land where bad management and excessive exploitation of environmental resources have caused serious degradation, affecting people's daily lives. They are particularly suitable when deforestation has reached worrying proportions, causing slope instability, which can provoke landslides that spill into rivers, increasing the likelihood of floods down valley. They are, therefore, carried out in areas subject to frequent natural disasters, where the population and local administrations are concerned with land protection.

Bioengineering works best in areas where the local population lives in close relation with nature, understood as an essential element for sustenance. Interest in protecting the soil for agrarian purposes and widespread manual skills also facilitate the success of these types of interventions.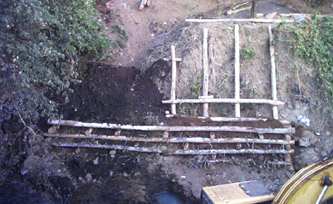 Finally, bioengineering work relies on the presence of a variety of specialists (engineers, agronomists, forestry workers, botanists), who, with their specific skills can help to devise and carry out the interventions.

Unfortunately, in both industrialised and developing nations, there is a widespread tendency to favour solutions which are technically sophisticated to the detriment of the environment and, often, also the landscape. Many engineers are over enthusiastic about technologically advanced and costly operations, where manpower is used to the minimum. This mentality undoubtedly leads them to downgrade work that, because of its very nature, must be as invisible as possible, favouring operations that create a visual impression. Very often not only technicians, but also public administrations favour ostentation. Bearing in mind these considerations, the promotion of bioengineering seems all the more appropriate, and must necessarily involve the widest range of institutional interlocutors, politicians, technicians, and associations in the countries and territories involved.






There is no doubt that technical conditions for bioengineering work can be found everywhere, since requirements are minimal compared to other typologies:
• Material: durable wooden poles, cuttings, and biomaterials such as jute nets and coco fibre;
• Qualified personnel: lumberjacks and building workers to start with, but specific skilled labour is fundamental if interventions are to be successful; therefore special capacity building courses are needed;
• Equipment: no special equipment is required; the most expensive are long drills and chainsaws;
• Vehicles: generally, trucks to transport material, and excavators, which provide significant savings in time, although work can also be carried out manually, as in the past.

DOWNLOAD THE BROCHURE PDF
Spanish
(1.3 MB)
English
(0.6 MB)

ONLY TEXT